A bartending license certifies you to sell or serve alcohol. Many states require you to have a bartender license (Alcohol Server Certification) before you can sell or serve alcohol.
To get this license, you must be trained in the liquor laws of the state. These laws include regulations concerning legal age to consume alcohol, happy hour guidelines, and liquor liability requirements. You should also know how these laws apply to serving alcohol and what your legal responsibilities are, as an alcohol server.
PSCC Bartending License Certification

Price: FREE-with the purchase of The Professional Bartender's Training
Manual and Recipe Guide
PSCC's Responsible Serving Courses certify you with a bartender license in most states. They are designed to be state-specific. Not only do they train you in your state's laws, they also teach you intervention techniques to help prevent drunk driving. They provide you with detailed and specific knowledge for serving alcohol responsibly, such as how to identify a fake ID, how to recognize an intoxicated person, and how to prevent someone who already has had too much to drink from additional drinking.
What makes you a successful bartender?
Bartending is more than just knowing what state laws you must follow. Successful bartending involves both product knowledge and customer service. You need to know a what the various drinks are, how to prepare them, and what they look like. You also should have a good grasp of customer service. Customer's are your business. Your skills in serving your customers along with vast knowledge of what you serve will define your success!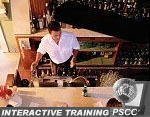 PSCC Bartender Mixology Certification
Price: $49.95
PSCC's Bartender Mixology Course is a great resource to learn drink recipes and preparation. It will also introduce you to a variety of liquors and give you practice using them in numerous drinks.
Bartender Mixology Course provides step-by-step instructions for drink preparation with a photo illustration for each phase. It will familiarize you with the various glassware pieces you use for different drinks. In addition, this course will help you develop exceptional customer service skills.
This course consists of 12 interactive lessons, with audio and video clips, hundreds of color photos and illustrations, quizzes and even a bonus bottle tricks lesson. It's an easy way to learn a lot of information through the interactive flashcards and resources provided with each lesson. Memorization of key drink recipes is fun through this informative course.