The Professional Bartender's Training Manual and Recipe Guide
is an invaluable guide to making your bartending a success. It is filled with information that will enhance your career. It is written in an easy-to-read format so you can quickly find everything you need to know.
What makes this book such a great resource?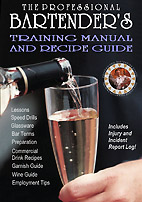 Lessons
1,000 commercial drink recipes
Garnish guide
Wine guide (including how to pair wine with food)
Bar terms
Glassware
Glossary of liquor flavors
And even employment tips!
PRICE: $29.95
In addition, when you purchase this manual you will receive a
FREE
bartending course that will train you to serve responsibly according to the liquor laws in your state.