Professional Server Certification Corporation (PSCC) is offering a
FREE
Responsible Serving Course
with the purchase
of
The Professional Bartender's Training Manual and Recipe Guide
.
This bartender license course is a great way to boost your career and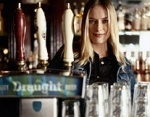 give you the training that employers are looking for.
---
FREE
RESP
ONSIBLE SERV
ING COURSE!
This
free responsible serving course
will train you in the liquor laws in your state and authorize you with a bartending license or responsible serving certification in your state. The course will help prepare you to serve responsibly. Some states have qualifications that require individuals who sell or serve alcohol to be certified. The certification from this course is acceptable in most states.
Click
HERE
to find out what your state requirements are.
Also many establishments require this training because it lowers insurance rates. This course can give you the skills and knowledge you need to provide proficient service!
This course will take abo
ut

4 hours

and
can be completed in one or more online sessions. But you can study at your own pace and take as much time as you need.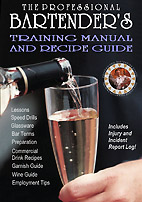 This course is
normally priced at $24
but comes
FREE
with the purchase of
The Professional Bartender's Training Manual and Recipe Guide
. This handy manual for bartender training or looking up drink recipes (drink names) is priced at
$29.95
.